Cosmetic Services
Veneers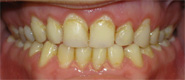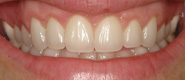 Veneers are porcelain facings that are permanently placed on front teeth. They are a conservative alternative to full crowns because they preserve more of a patient's natural tooth structure. Veneers can be used to correct the appearance of crowded teeth, spaced teeth, intrinsically stained teeth, or misshapen/broken teeth.
Whitening
Whitening is used to treat extrinsically stained teeth—teeth that are discolored due to external staining from red wine, tea, coffee, and a variety of other substances we consume in our daily diets. Whitening will not correct intrinsically stained teeth—those that are discolored because of internal discoloration, most frequently associated with tetracycline. This is rare, most patients have extrinsically stained teeth. Patients who have crowns or fillings on front teeth should be aware that those will not change color and may necessitate cosmetic replacement after the completion of whitening.
In our office, we offer two types of whitening; in-office and take-home. Both whitening systems are equally effective, however the in-office system provides quicker results. In-office whitening is for patients who prefer to come into the office and have their teeth whitened in a single appointment. Take-home whitening kits can be used over the course of 3-6 weeks.
BOTOX® Cosmetic
BOTOX Cosmetic is a prescription medicine that is injected into muscles and used to improve the look of moderate to severe frown lines between the eyebrows (glabellar lines) in people 18 to 65 years of age for a short period of time (temporary).
Dermal Fillers
JUVÉDERM injectable gel (including JUVÉDERM® Ultra, JUVÉDERM® Ultra Plus, JUVÉDERM® Ultra XC, and JUVÉDERM® Ultra Plus XC) is indicated for correction of moderate to severe facial wrinkles and folds (such as nasolabial folds).